About
The mission for Tahoe Crayfish Company is to provide fresh, live Signal Crayfish to qualifying restaurants and distributors, while contributing scientific data and research to Lake Tahoe's invasive species and water clarity programs.
We at Tahoe Crayfish Company are lifelong residents of Lake Tahoe and are concerned with the health of our environment.  We're grateful for the opportunity to aid in this cause as well as to provide clean, natural food for local consumption.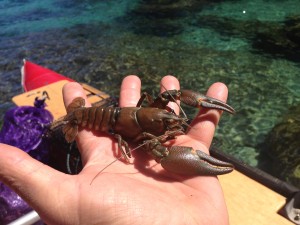 Tahoe Crayfish Co. believes that low impact practice of trapping and harvesting crayfish can naturally blend in with daily recreational boating activities on Lake Tahoe.  We feel strongly that the visual impact of commercial crayfish harvest on Lake Tahoe should be kept to an absolute minimum.  As locals in the Tahoe community we understand that unnecessarily aggressive commercial fishing and boating practices are not welcome on the Lake.
Harvest activity occurs within the Nevada boundary areas from Crystal Bay Point to Cave Rock, primarily the east shore region.
Our watercraft of choice at this time for trapping and harvest operations are motorized 18' Aire inflatable catamaran/pontoon deck boats.  These watercraft serve as preliminary research and development vessels and are surprisingly appropriate for harvest and trap management.  Our unique and specialized watercraft are outfitted with modern high tech GPS and navigation systems to aid in vital data tracking.  It's designed to carry heavy and sizable loads for its length and width and is virtually unsinkable, they are truly impressive in their ability to easily and safely operate in rough water.  Another advantage is that it's light weight, using smaller than average motors for most watercraft vessels of this size (25 to 40 horsepower four stroke outboards), adding one more low-impact advantage, minimized fuel consumption.  Wow!  That's a lot to think about.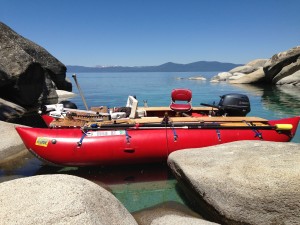 We deliver our daily catch directly to wholesalers and restaurants throughout California and Nevada.  Tahoe Crayfish Company is truly looking forward to serving you and values its participation with this promising and appropriate environmental improvement project for Lake Tahoe.